News: Working in Harvesting Teams are now available in Japanese!
The title of the Japanese books are Practical guidebook of forestry machine for high productivity – 22 chapters to reach for world-level machine operators, or as they write it in Japanese:
生産性倍増をめざす林業機械実践ガイド-世界水準のオペレータになるための22 の法則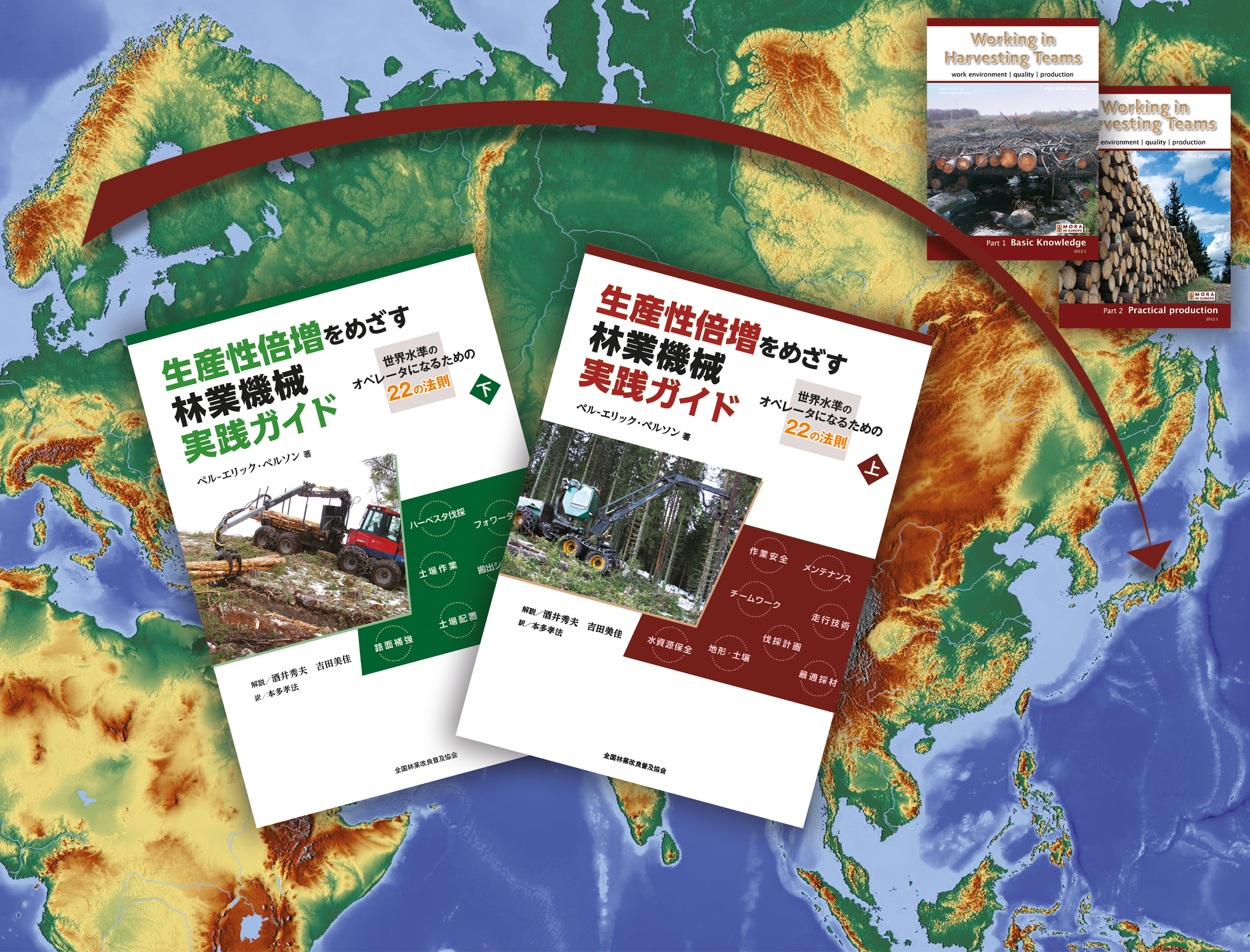 Please click on the link below to read more about the Japaneses books and place your order. Note! The page is only available in Japanese. 
日本語版の詳細ならびにご注文はこちらをクリックください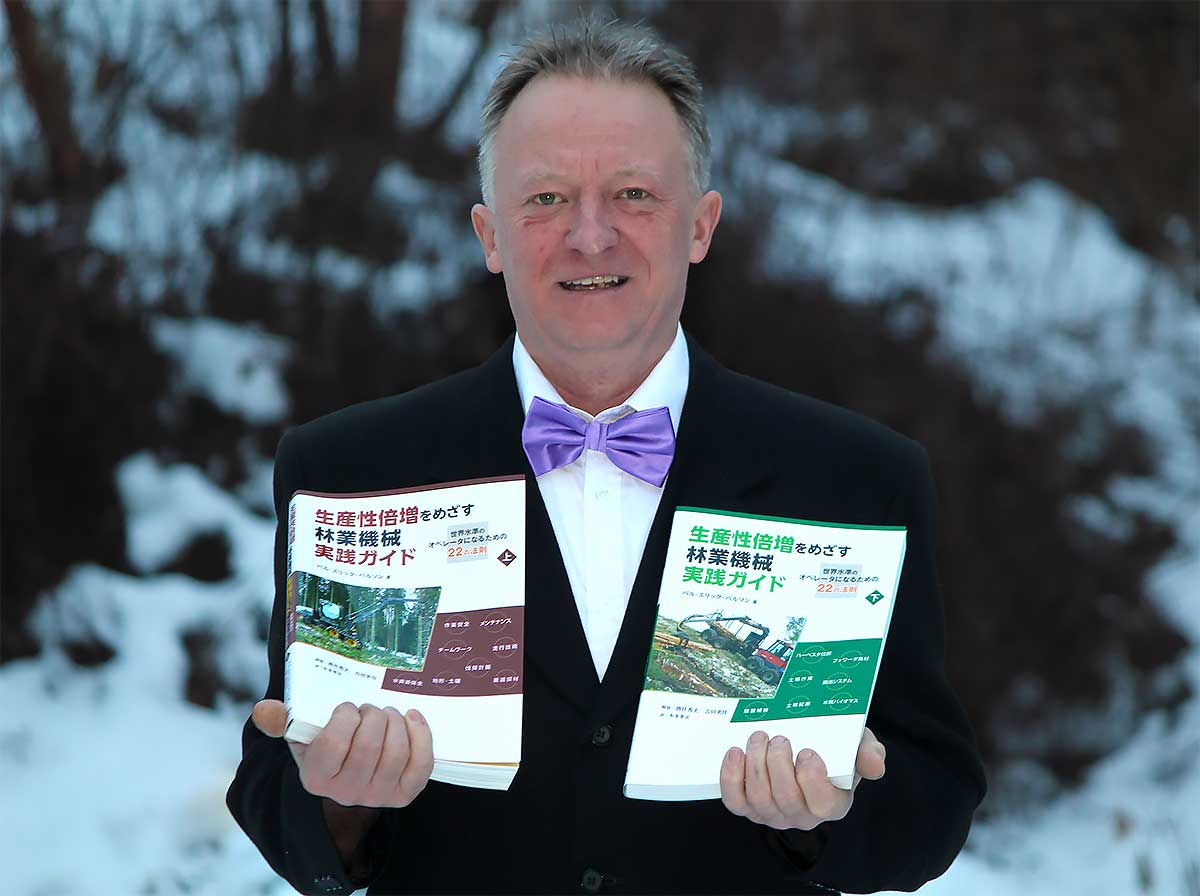 Per-Erik Persson, author of Working in Harvesting Teams, happily received the Japanese books when Sweden was covered in snow in December 2019. 
Unique knowledge now spreading globally!
Our educational material, Working in Harvesting Teams, is being successfully used in numerous regions, now including countries outside Europe, for example, South Africa, Australia, Canada and Japan.
660 pages of first class information about Working in Harvesting Teams. Said of one of our readers: "This is the best information available in this area".
Working in Harvesting Teams- now available in 6 languages!
English – Working in Harvesting Teams
Swedish – Arbete i avverkningslag
Finnish – Korjuuketjun työt
Latvian – Mežizstrādes darbi komandā
Lithuanian – Darbas miško kirtimo komandoje
Japanese – 生産性倍増をめざす林業機械実践ガイド-世界水準のオペレータになるための22 の法則
A bargain price for a gold mine of knowledge
Bengt-Åke Alriksson
Pages from the books
Here you can download some pages from the English and the Swedish books.
English books

Part 1 >> Basic Knowledge
Part 2 >> Practical Production
Swedish books
Del 1 >> Grundläggande kunskaper
Del 2 >> Praktisk produktion

Working in Harvesting Teams
For all people going working with the most beautiful and most important raw material – The Forest!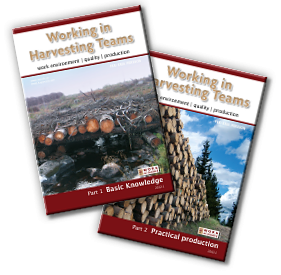 The books "Working in Harvesting Teams" provide the knowledge required for forest harvesting — covering everything from planning the harvesting site to stacking the wood in piles, including both harvesting and forwarding. They are designed to assist both practical professionals (harvester and forwarder operators) and planners. Part 1 is entitled "Basic knowledge" and Part 2 "Practical production". The books have a unique educational approach, reinforced with over 650 photographs illustrating real work situations. By using illustrations and drawings the author makes complex information simple and easy to understand. Therefore, the books provide outstanding training assistance! They are excellent "boosters" for beginners, but the level of knowledge is high enough for all professionals to find "gold nuggets" in them!
Latvian State Forests buys Working in Harvesting Teams
A very grateful moment for Mora in Europe when the author consigns a first part delivery of books to the Latvian State Forests, Latvijas Valsts Mezi.
We are feeling proud that they now are implementing the Latvian edition of the books (Mezizstrades Darbi komanda) throughout their organization.
The author personally handed over 100 book packages in conjunction with giving a presentation for all regional managers.
The author Per-Erik Persson surrounded by people from Latvijas Valsts Mezi. At the left, Arnis Melnis, member of the board. At the right, Martin Gaigals, strategic development manager.
Working in Harvesting Teams –now with a new material: Internet-based training – for free!
We increase professional and language skills for European forest machine operators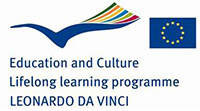 In the project a glossary has been created based on 1300 words taken from Working in Harvesting Teams which has been translated into more than 15 languages. There is also a self-study material, with study data and tests – that can be used for free! It will never get easier and more cost effective than learning by this way!
Read more >>
Green energy from the forest*
The comprehensive material in the books covering how to handle GROT* can also be found in the book "Green energy from the forest". This book is available in Swedish, Finnish and English and is an excellent manual, especially for companies working with biofuel.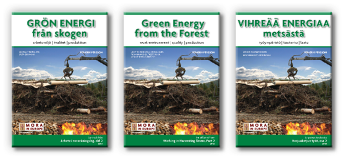 Nearly 1000 companies and more than 50 schools and universities have already taken note of "Working in Harvesting Teams" and the feedback has been consistently positive: that they provide important material that is really needed, for both education in schools and further training in companies.
Green Energy from the forest
* (The Swedish acronym GROT = GRenar Och Toppar; branches and tops).
The books provide an extremely clear view of what is the most important elements of an efficient production chain – safety – quality – efficiency.
This is illustrated in a brilliant way with clear examples of practical use and with a simple and pedagogical language in both the Swedish and English version. Tomas Johannesson
Working in Harvesting Teams
The books Working in Harvesting Teams are now used all around the world, and are being called
The new Forrest bible.
The books are easy to read, very logical and have more then 600 pedagogical images and illustrations.
For new contractors the book is perfect, but even the most experienced operators appreciate the book. Comment from one of our best contractors: The one who wrote the book knows what he's talking about! Tommy Bloom
Reviews
The books have been praised by business leaders, educators, and researchers – and praised in magazines, newspapers and websites, both Swedish and international.
Are you a Polish reader, please
click here


Working in Harvesting Teams is an extraordinary book, written in a very clear language, with a remarkably practical approach, accessible to everyone, excellent illustrations, extremely attractive to the reader. Prof. Carlos Turc Ph.D.